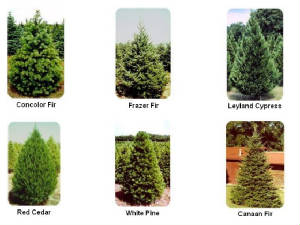 We have six species of trees that we grow and offer for choose and cut. They include: White Pine $36.99 plus tax, Scotch Pine (Limited Selection) $36.99 plus tax, White Spruce (Limited Selection) $39.99 plus tax, Canaan Fir(Limited Selection)
$39.99 plus tax, Leyland Cypress(Limited Selection) $24.99 plus tax.
Trees are priced according to species not size or height. Quantities and sizes of specific species vary annually.
In addition to our choose and cut trees we offer Fraser Firs and Concolor Firs. These trees are cut the weekend prior to Thnaksgiving and are stored to ensure freshness. Prices are based on height and range from $39.99 plus tax to $89.99 plus tax.
We provide saws and offer free shaking and bailing. We also have twine and will assist with loading and securing your tree to your vehicle.
We offer fresh wreaths either decorated or undecorated. Decorated wreaths are priced according the amount and type of decorations and bows used and typically start at $24.99 plus tax. Undecorated wreaths are $18.99 plus tax. We also have pine roping in 25 and 75 ft. lengths.
Our Christmas shop offers a wide variety of unique decorations, our signature mugs and ornaments, our private label jelly and jams, and tree care supplies including CINCO and Kreiner tree stands and tree hydration products. Anne's shop is always warm and she has a complimentary cup of cocoa or her homemade cider ready to warm you up and a little gift for all the children.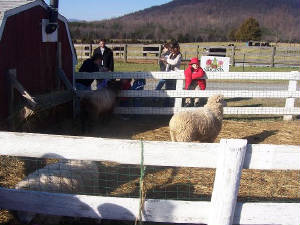 The petting zoo has lambs and sheep who are eager for you to feed them a hand full of corn or grain.